Young artists look to make their mark in 2014
By: Connor Abbott '14
Now well into 2014, various music labels begins to look for new talent to add to their lineups. Labels have found gems as recently in artists such as Chief Keef, Childish Gambino, and Kendrick Lamar, and 2014 might see even better talent on display. Here's a few artists you should look for in the hip-hop industry as we start 2014.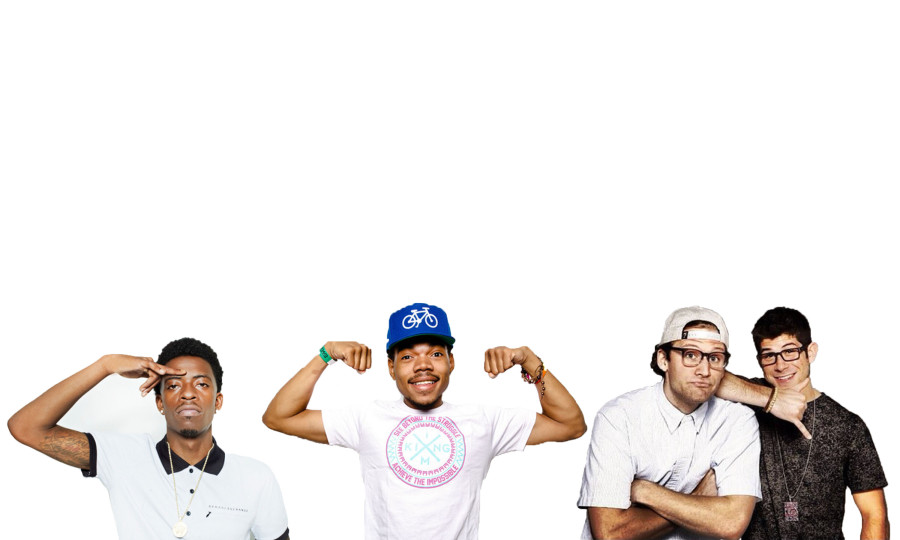 Chance the Rapper
Probably the hottest up-and-comer on the list at the moment, Chance has labels scrambling to sign him. Out of the new rap hotbed that is Chicago, Chance hopes to make his name amongst prominent artists from the Windy City such as Kanye West and Chief Keef. Chance has released two solo mixtapes, Acid Rap and 10 Day, both of which have gotten over 100,000 downloads off the mixtape website Datpiff (Acid Rap has accumulated half a million in less than a year). His sounds, which take on a very mellow nature, are what some would call revolutionary, as he takes on a sound that the rap industry has never seen. Some would say he's a mix between a younger Mac Miller and a more recent Childish Gambino, but in the words of Stephen Everest, "He's just better". As it seems more and more likely that Chance will be signed to Kanye's label GOOD Music, Chance is on the verge of making it big in the hip-hop industry.
Aer
The Boston duo, made up of David von Mering and Carter Schultz, has long been seemingly on the verge of making it big on the music scene. Their sound, which seems to be a cross between rap, reggae, and pop, has been a hit amongst college kids, as their fun sound aren't as hard as the likes of Juicy J or French Montana. After dropping their mixtape The Reach, their song "Feel I Bring" immediately became a hit single, putting them on the map in the industry. Their EP What You Need didn't completely satisfy peoples anticipation for the young duo, but the follow up album The Bright Side, dropping in 2012, topped charts and furthered the possibility of them blowing up on the music scene. Although their self-titled album Aer wasn't as much of a success as hoped, their good fortune continues to rise and should through their country-wide tour.
Rich Homie Quan
Much like Chicago, Atlanta has become a hotbed for new rappers, the newest of them being Rich Homie Quan. Set to join artists like Future and Migos, Rich Homie became popular after he released his hit single "Type of Way" and was shortly thereafter featured on YG's hit single "My Hitta". Although many thought that Rich Homie was set to have a short lived career after his success over "Type of Way", he came back strong with his song "Walk Thru" off his most recent mixtape I Promise I Will Never Stop Going In, and looks like he might stay with the heavy hitters in the rap industry. Although his career is still unpredictable, look for Rich Homie Quan to be coming strong in the next couple months to prove his position as part of the rap game's elite.