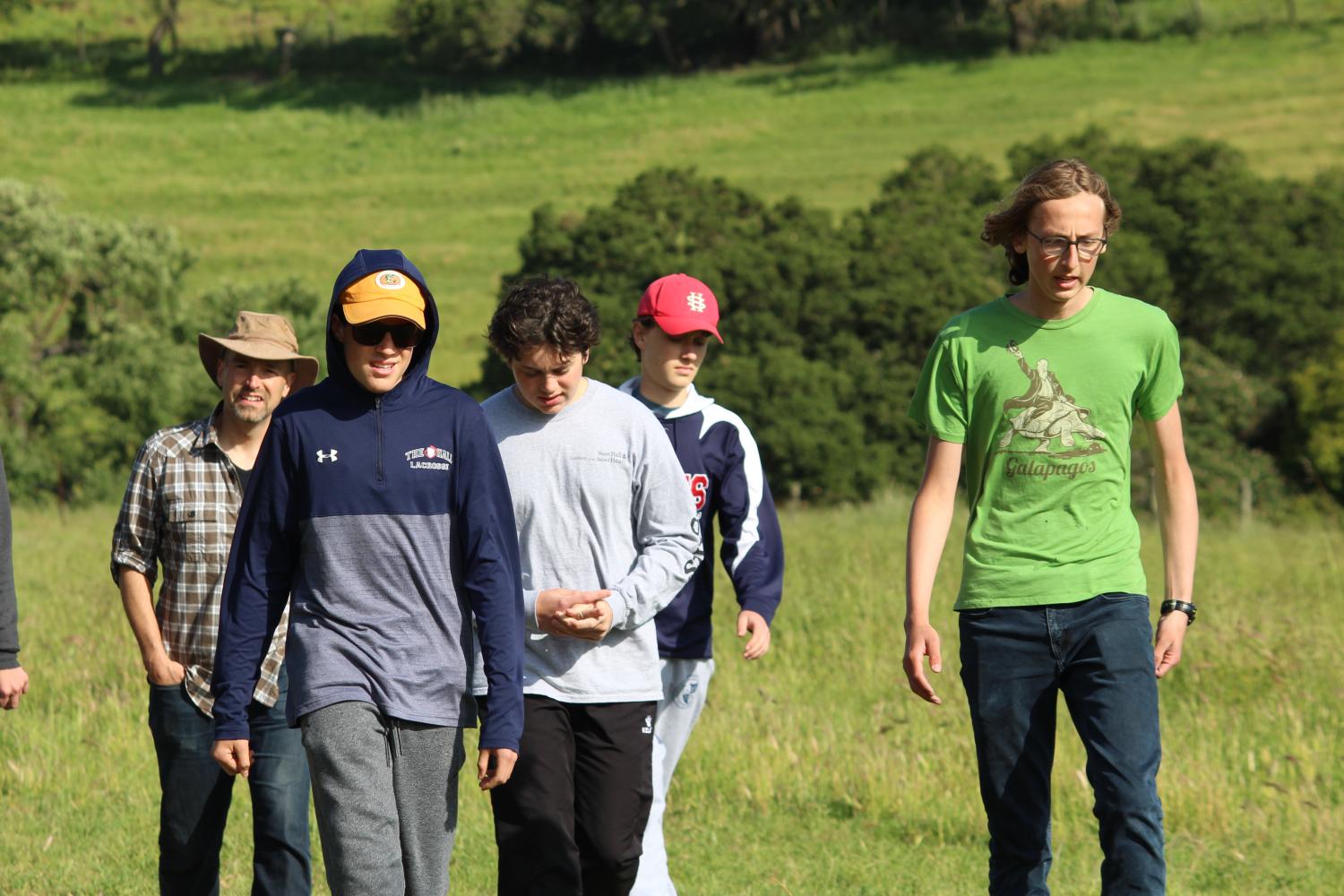 Leet Miller
A small group of student and teacher meditators had a both relaxing and eventful retreat on a remote ranch in Marin over the past weekend.
Scott Roos led the Meditation Club on the retreat hosted by club member Theo Ennis '19 and his family on their 325-acre ranch south of Petaluma.
"The goal of the retreat was to give the students experience with many different kinds of meditation," Roos, who teaches students techniques of meditation weekly during club meetings, said.
"I've studied Shamanism and Tai-Chi for years, and I am an expert yoga teacher at the 500 level," Roos said about having completed over 500 hours of training.
Roos not only led activities such as Tai-Chi and Shamanic journeying on the retreat but also told stories of his experience studying these practices.
"Dr. Roos taught us about his many journeys and experiences with meditation and Tai-Chi from around the world," Maxi Tellini '20 said. "His insightful and fascinating stories are great examples of the mentorship he bestows unto us every day."
Retreat participants also had time for activities such as hiking and cooking.
"We also went fishing and swimming in the ponds on Theo's property, and we hiked through tall grasses to the the top of a series of rolling hills," Tellini said. "The end result was a beautiful view of the countryside of Petaluma and Theo's ranch.
The group prepared its own food as a team and cleaned up after themselves. Brook Wiers, the only teacher besides Roos to attend the retreat, used these moments to educate the students.
"As a teacher, you're always thinking about how will guys learn from a given experience, so everything can potentially become a learning experience," Wiers said. "When we were cooking the meals, it was good to show guys how to put garlic into oil and how to heat up oil and cover a pan with it and also chop up potatoes small so they would cook on time," Wiers said. "So that was an interesting aspect to do teaching that's not traditional for the classroom."
This is the last year that Roos will be leading the retreat as he will be working at a school in the Sierra Nevada next year.
"I've led this retreat two times before, and I didn't get to lead it in the fall because of my dissertation writing, so I wanted to do one more before I leave," Roos said.
Participants said the ranch served as an appropriate setting for meditative activities and provided a tranquil environment for the practices included in the retreat.
"The setting was perfect for the retreat," Roos said. "It was in nature. Beautiful rolling hills with cows on the hills, a perfect kitchen where we could cook, and then a barn that was great for meditation."
"It is a really nice effort on the part of Mr. Roos to introduce meditation to the boys in a very relaxing country setting, that was very thoughtfully provided by the parents of Theo Ennis," Wiers said.