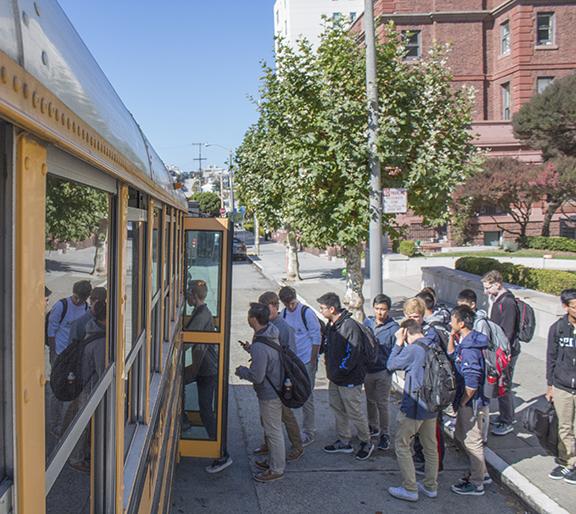 Changing community faces challenges
October 11, 2016
IB courses offer more opportunities for integrated experiences
Two thousand ten marked the first year that Convent and Stuart Hall started offering coed classes. Six years later, the high schools continue to navigate the challenges and benefits of offering "a single sex education in a coed environment," but on a larger scale and for different reasons.
Stuart Hall High School's low enrollment in the years leading up to 2010 caused the administration to start offering coed classes in the Language department,, according to President Ann Marie Krejcarek. Students now have the opportunity to take coed classes in every department because it offers them the most opportunity.
The International Baccalaureate Programme offers the most coed classes with juniors taking between five and six coed classes. The IB Programme is in its inaugural year at Convent and Stuart Hall and has 30 students enrolled.
"We wanted to offer students the biggest menu of options, which is why we chose to introduce the IB Programme," said Krejcarek.
Of the students in the program, 19 are boys and 11 are girls. The girls' exposure to classes like computer science and robotics, which are not offered in the IB Programme, may have deterred them from joining the Programme, Krejcarek speculated.
Due to the inequality between the number of boys and girls in the Programme, all of the classes except for English and theology are coed. Krejcarek said ideally history should be single sex so the programs would be half coed and half single-sex. Currently there is a higher percentage of coed classes than single-sex.
Krejcarek said she also hopes to introduce IB Music and Computer Science, which are currently not offered at either school.
Despite this year's shift towards more coed classes, Krejcarek said the schools are not on track to become coed as some students have speculated.
"I feel like they are going to integrate more boys and girls over the next couple of years, resulting in the schools becoming one," said Andre Restauro '18.
President Krejcarek says the administration hopes to keep the communities separate for certain events and then have them be coed for some so that the student can enjoy "the best of both worlds."
"I hope that students claim their own community while enjoying the complexities that come with it," Krejcarek said.
Bus departures, arrivals present challenges
Late buses between the Broadway and Octavia streets campuses are resulting in students routinely missing class time, creating headaches for students and administration alike as everyone adjusts to the new transition brought o
n by more coed classes with the implementation of the International Baccalaureate Programme.
An increasing number of students are taking classes at the opposite campus, with 40 coed classes this year, up from 29 the year before.
"I think that the community feel aspect has really expanded, not just for IB students, but for students as a whole," Director of Student Life Ms. DeMartini-Cooke said. "Having both groups on each campus has really opened up what it means to have a high school campus."
For the first few weeks of the school year, only one of the two buses traveling between campuses had enough seats to accommodate all of the students. Once the maximum capacity of the bus was reached, students were no longer allowed to board. These students had to attempt to trek from one campus to the other within the 10-minute passing period.
The school recognized these issues, and has replaced the smaller bus with one significantly larger, fitting all the students who need a ride.
"The first couple weeks of school the buses were late, but as time has gone by the buses have been slowly improving and hopefully will reach a point where we miss no class," Adrian Medina '18 said.
The Roundtable timed buses arriving at the other campus an average 3 minutes, 42 seconds late. Once arriving and getting off of the bus, it can take students 1 to 2 minutes longer to hustle to their classroom and unpack for class.
"I have had to actually adapt classes to account for buses," physics teacher Riaz Abdulla said. "I generally have to start between 5 and 10 minutes late. It becomes a cycle where I have to let students out 'on time' or they miss the next bus and the next teacher ends up paying for it."
Students who bus between classes arrive on average of 5 minutes, 12 seconds late, resulting in missing an average of one class period per 18 classes, according to a Roundtable study the week of Oct. 12 in which buses were timed.
Based on the 18 classes each block period has met so far this year, students taking a bus to class have missed an average 93.6 minutes of the class, or about 6.2 percent of total class time.
Students are missing the equivalent of one entire class per every 18 class periods.
"I would say driving is an art not a science," said bus driver DiAra Reed. "There are a lot of variables such as traffic and pedestrians. It could also be the students we have to wait for."
Head of School Tony Farrell says to combat the issue the school has worked towards having teachers let students out on time, allowing students to hustle and make the bus.
"We are definitely aware and are seeing what we can do to ease that transition so that taking the bus isn't a stressful part of your day," DeMartini-Cooke said.