Varsity soccer looks to make playoffs despite record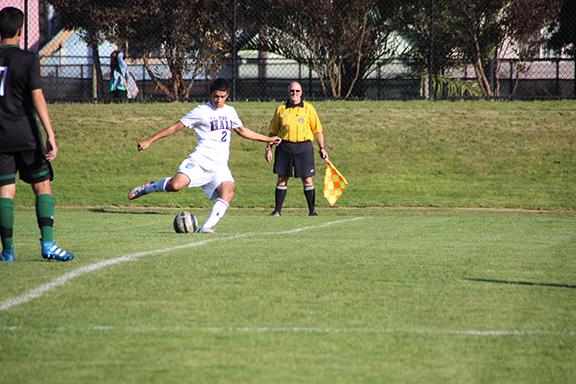 Although soccer teams have had a little bit of a bumpy start to the season, both varsity and JV teams are turning their seasons around. Players have been training since Aug. 10, and they are now putting all their work to use in the regular seasons.
Varsity tied 1-1 in its preseason game against Redwood Christian on Aug. 26 and lost its opener against Urban 1-2 on Sept. 7.
Varsity fought hard and won against SF Waldorf 6-0 on Sept. 16, and beat Pescadero 6-1 on Sept. 19. The team also tied against a tough competitor, Gateway, 2-2 on Sept. 21, however lost the night game against Bay School on Sept. 23.
"We're confident and hopeful," defender Calvin Foss '17 said about their success for the remainder of the season. "We have had good senior leadership with Emilio Lopez. We've been able to get some good team bonding on the bus, and we've been practicing really hard."
Varsity is on the right track, and some new players to the team this year have been shining.
"Sam Jubb, the freshman, looks like he's going to be starting forward which is really good," Foss said. He's started all but two games. "Everyone's pretty dedicated. The whole team's working to figure out how we'll do."
Both JV and varsity are expected to play between 15 to play 20 games in the Bay County League Central this season, according to Athletic Director Charley Johnson, with the possibility to play as many as 24.
"It's a short season and it is hard to jam in a lot of games," Johnson said. "Playoffs start in the end of October. Soccer is usually over by early November."
JV has had to overcome some difficulties in the beginning of the season, including team leader, James Cross '19, breaking his tibia in a game against
Lick-Wilmerding.
"Losing Cross has crippled our team, but we are slowly learning how to play without him," captain Drew Jasper '19 said. "He will definitely be missed."
Although the JV team won its first game on Aug. 31 against Lick-Wilmerding's frosh-soph combo team 1-0, it lost or tied the next few games. The team has since rebounded, beating Bay School 1-0 and Drew 2-1 on
Sept. 23.
"I think we're feeling pretty good about our chances," co-captain Henk Veld '20 said about the season. "We have some sophomore leadership with Patrick Eklund, Drew Jasper, Ari Nagle, and Nick Harle that has helped our team improve."