Senior lectures on genocide
Eislund teaches class on Extended Essay topic.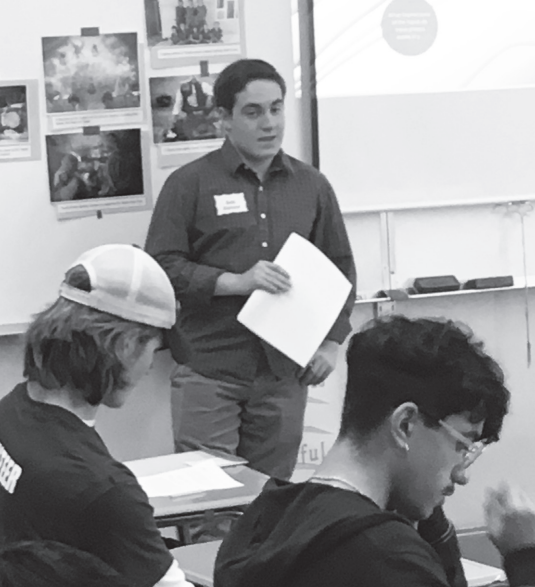 Speakers at the Jewish Family and Children's Services' annual Day of Learning tend to be adults, but a Stuart Hall student was invited to lead a workshop at this year's event in effort to teach students about genocide.
Senior Seth Eislund led an hour-long workshop on the Yazidi genocide at the Day of Learning, which took place at Galileo High School, on March 4. The Day of Learning aims to cultivate an understanding of genocide in California students.
"I taught a workshop on the Yazidi genocide because it is important for people to know that the Holocaust wasn't the only genocide that occurred in History," Eislund said. "There have been genocides in Bosnia, Delfur, Sudan — and now the Yazidi genocide."
The Yazidi genocide hasn't received much publicity, but it is one of the most recent instances of an attempt to destroy a specific group of people.
"A Yazidi is a member of the Kurdish ethnic group, a group that lives around the Northern mountains of Iraq," Eislund said. "The Yazidis don't practice Islam like other Kurds do. They practice their own syncretic religion that has aspects of Christianity, Islam and Zoroastrianism."
ISIS is reportedly attempting to exterminate the Yazidis because they don't practice Islam.
"A genocide is the attempt to eliminate in whole or in part an ethnic, racial, religious or political group, according to the United Nations," Eislund said.
"What this involves in the Yazidi genocide is men being round up and executed in mass graves," Eislund said. "Yazidi women become sex slaves traded by members of Isis, and then Yazidi boys are actually taken and indoctrinated to become Isis fighters and suicide bombers."
The Yazidi genocide is being discussed, but Eislund says that doesn't mean it is over.
"Not all the women have been recovered, and who knows if Isis is till killing Yazidi men," Eislund said.
Eislund related the genocide to other instances of an attempt to abolish a particular group, such as the Holocaust, and then also opened a discussion.
"It was really powerful hearing about the atrocities of the Yazidi genocide, and it was even more amazing to see one of my own peers, who was so well read on the subject, present," Maxi Tellini '20 said.
Close to 50 high school and middle school students from Northern California high schools and contributed to the discussion.
"As a Catholic I'm taught to live by forgiveness, but after hearing about how horribly the Yazidis are treated, it is hard to remember forgiveness," Eman Olivares '20 said in the discussion.
Eislund was asked to lead a workshop because of years of extensive research on the genocide. He was the only student to present at the Day of Learning.
"With regard to people in my age group, I am probably the closest thing to a Yazidi expert," Eislund said. "That is the reason why the JFCS entrusted me to teach the workshop. They couldn't really find anyone else who knew as much about the Yazidis."
Eislund acknowledges that the Yazidi genocide is a peculiar subject to research.
"I had been reading in the news a lot about Isis," Eislund said. "I started researching about their group, and that led me to Yazidis. I was fascinated by their religion and their culture."
Eislund has researched the group for nearly two years now, and he says he plans to keep learning about the Yazidis and the genocide happening to them.
"That's what Goal Two calls me to do," Eislund said. "I definitely want to continue my studies."